Inside this issue
How do you compare?
Examining effects in multilevel models using contrasts
If your statistical background includes ANOVA modeling and analysis of designed experiments, you are likely already familiar with contrasts. If not, contrasts may be a new concept, or perhaps you use certain types of contrasts but call them by different names. So before we jump to contrasts with multilevel models, let's look at a few types of tests you can perform using Stata's contrast command.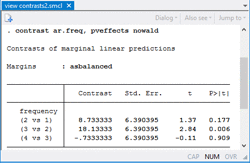 In the spotlight: Bayesian IRT-4PL model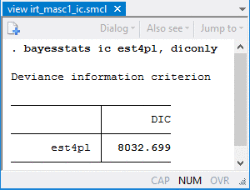 Item response theory (IRT) is often used for modeling the relationship between the latent abilities of a group of subjects and the examination items used for measuring their abilities. Stata 14 introduced a suite of commands for fitting IRT models using maximum likelihood. In this article, we demonstrate how to fit a Bayesian 4PL model using bayesmh.
Bookmarks: Series 8 now available
Collect the latest set of five commemorative bookmarks documenting the accomplishments of Thomas Bayes, Vera Nikolaevna Kublanovskaya, Max Otto Lorenz, Andrey Markov, and John Snow. The set begins shipping March 7.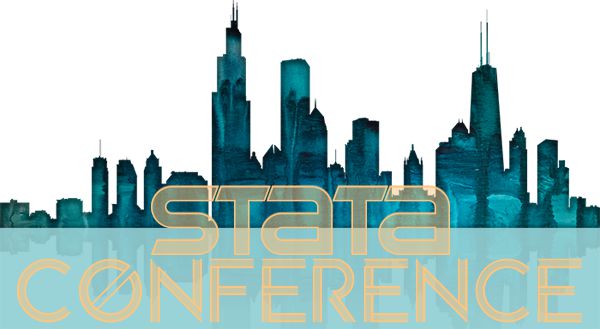 July 28–29 in Chicago
Looking to increase your Stata IQ, or perhaps just want an excuse to enjoy a few days in the city that is second to none? You can't miss with the 2016 Stata Conference. The Stata Conference provides a unique users-group experience, bringing together top researchers from around the world and Stata developers in an intimate atmosphere where everyone is welcome.

More dates and locations are forthcoming. Check our site frequently for updates.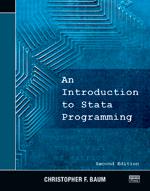 An Introduction to Stata Programming, Second Edition
By Christopher F. Baum
Copyright: 2016
$58.00
If you want to understand basic Stata programming or want to write your own routines and commands using advanced Stata tools, Baum's book is a great reference.
New from the Stata Bookstore
Applied Ordinal Logistic Regression Using Stata

By Xing Liu
Copyright: 2016
$58.75
Introduction to Econometrics, Update, Third Edition
By James H. Stock and Mark W. Watson
Copyright: 2015
$198.75
Introductory Econometrics: A Modern Approach, Sixth Edition

By Jeffrey M. Wooldridge
Copyright: 2016
$209.75
Multilevel Modeling in Plain Language

By Karen Robson and David Pevalin
Copyright: 2016
$32.00
NetCourses
Introduction to Stata
March 4-April 15, 2016
July 8-August 19, 2016
$95.00
Statistical Graphics Using Stata
March 4-April 15, 2016
July 8-August 19, 2016
$150.00
Introduction to Stata Programming
March 4-April 15, 2016
July 8-August 19, 2016
$150.00
Writing Your Own Stata Commands
July 15-September 2, 2016
$175.00
Univariate Time Series with Stata
July 15-September 2, 2016
$295.00
Introduction to Panel Data Using Stata
July 15-August 26, 2016
$295.00
Introduction to Survival Analysis Using Stata
July 15-September 2, 2016
$295.00
Public training
ICPSR Summer Program in Quantitative Methods of Social Research
Three of this year's ICPSR courses are taught by StataCorp staff and will be of particular interest to Stata users.
Handling Missing Data Using Multiple Imputation in Stata
Rose Medeiros, Senior Statistician
July 6-8, 2016
Structural Equation Modeling with Stata
Kristin MacDonald, Asst. Director of Statistical Services
July 18-20, 2016
Multilevel and Mixed Models Using Stata
Rose Medeiros, Senior Statistician
July 26-29, 2016
The Stata Journal Editors' Prize
The editors of the Stata Journal, H. Joseph Newton (Texas A&M University) and Nicholas J. Cox (Durham University), are delighted to announce the award of the Editors' Prize 2015 to Richard Williams.
Nominate your favorite Stata Journal authors for the Stata Journal Editors' Prize 2016.