Inside this issue
In the spotlight: Treatment effects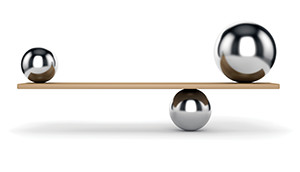 A delicate balancing act
How do you make observational data behave like experimental data?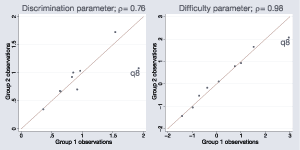 Discovering the relationship between test questions and unobserved abilities has never been so easy.
Learn Stata from wherever you are.
Introducing our newest NetCourse, Introduction to Statistical Graphics Using Stata. Learn how to communicate your data with Stata's powerful graphics features.
Learn more and view the entire NetCourse schedule »

Stata for the Behavioral Sciences
Michael N. Mitchell
Copyright: 2015
$62.00

Thirty Years with Stata: A Retrospective
Edited by Enrique Pinzon
Copyright: 2015
$25.00

Econometric Evaluation of Socio-Economic Programs: Theory and Applications
Giovanni Cerulli
Publisher: Springer
Copyright: 2015
$97.50

A Stata Companion to Political Analysis, Third Edition
Philip H. Pollock III
Publisher: CQ Press
Copyright: 2015
$52.50
Join us and connect with Stata users from all around the world.
Sweden
Stockholm
September 4, 2015
UK
London
September 10-11, 2015

Portugal
Lisbon
September 18, 2015
Australia
Canberra
September 24-25, 2015

Spain
Madrid
October 22, 2015
Italy
Florence
November 12-13, 2015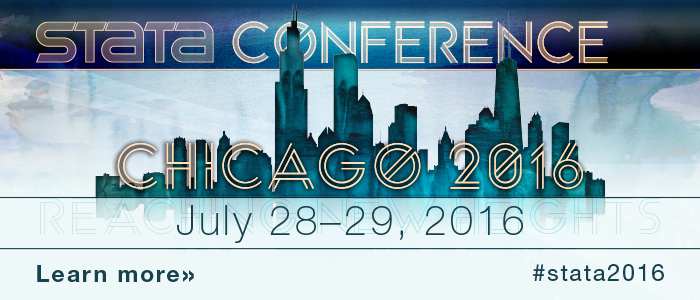 September 22–23, 2015
October 13–14, 2015
Learn techniques for efficient day-to-day use of Stata.
October 15–16, 2015
Learn how incredibly easy survey data analysis is in Stata. Specifying sampling designs. Estimation. Interpretation.
October 19–20, 2015
Call them multilevel models, mixed-effects models, or hierarchical models. Whatever the name, learn to fit both linear and nonlinear models that measure and account for clustering or grouping at multiple levels.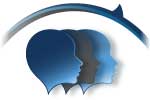 Take advantage of the new features in Stata 14, including Bayesian analysis, IRT, Unicode, integration with Excel®, multilevel survival models, more in treatment effects, and so much more.