Community corner: Play Wordle in Stata
I'm sure you've heard of it—the viral online game called Wordle. The objective of the game is to guess a five-letter word in six attempts. Each time you guess, you're told which of your chosen letters are in the target word and whether they are in the right place.
While we typically write Stata programs out of necessity for our research, there's no reason we can't write programs purely for entertainment. We can even create games like Wordle in Stata—and Austin Nichols did exactly that with his command wordy. You already have Stata open, so why not play?
First, install the community-contributed feature in Stata by typing

. ssc install wordy

To begin the game, type

. wordy
Once you guess a five-letter word, a Stata graph will appear with your guesses. To learn more about the game, type

. help wordy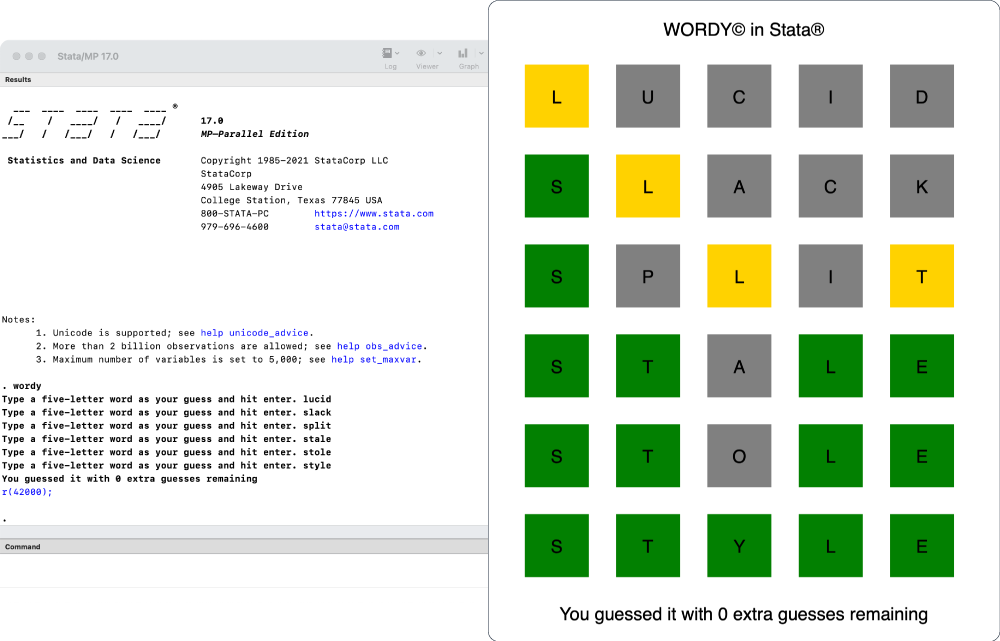 It's that easy! Austin's community-contributed command is a great example of how Stata can be used for fun. I would be remiss not to mention that Austin is this year's chair for the Stata Conference, an annual meeting where you are sure to learn of several other Stata community-contributed features.