StataCorp offers exciting opportunities for summer interns.
Job duties include learning how to use Stata and how to program in Stata, answering technical questions from Stata users via email, creating technical support materials, such as FAQs and NetCourses, assisting in adding new statistical features to Stata, including programming, testing, and documenting these features, collaborating on projects suitable for publication in the Stata Journal.
The candidate must be currently or about-to-be enrolled in a graduate program in statistics, biostatistics, econometrics, computer science, or a related quantitative field, have good technical writing skills and the ability to effectively communicate in English.
The preferred candidate will have a strong mathematical background, experience programming in statistical languages such as Stata, experience programming in scientific languages such as C/C++ and Java.
Intern salary is commensurate with skills and experience.
Internships are full-time positions, but work schedules can accommodate summer courses.
StataCorp LLC is an Affirmative Action Employer — Minorities/Females/Vet/Disability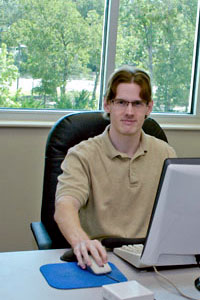 Stata has a very collegial and pragmatic environment that fosters creativity and productivity. When I interned at Stata, I learned how to effectively design statistical programs in my development tasks. I also learned how to effectively communicate in my customer support tasks and in my interactions with co-workers. These valuable skills were useful as I began research for my dissertation, as I completed my thesis, and as I continued on into industry.
— Charles Lindsey
Senior Statistician and Software Developer