2014 UK Stata Users Group meeting
Dates:
September 11–12, 2014
Venue:
Cass Business School
106 Bunhill Row
London EC1Y 8TZ
UK


(Just off Finsbury Square in the city of London)

Cost:
Both days: £96 regular; £66 students
Single day: £66 regular; £48 students


Prices include VAT.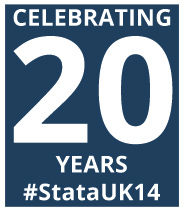 The 2014 UK Stata Users Group meeting is a two-day international conference where the use of Stata is discussed across a wide-ranging breadth of fields and environments. Established in 1995, the UK meeting is the longest-running series of Stata Users Group meetings. The meeting is open to everyone. In past years, participants have traveled from around the world to attend the event. Representatives from StataCorp will also be in attendance.
Program
Thursday, September 11
9:25–9:30
Opening remarks
9:30–10:00

Roger B. Newson

National Heart and Lung Institute, Imperial College London

10:00–10:30

Brendan Halpin

University of Limerick

10:30–11:00
Break
11:00–11:30

Ben Jann

University of Bern

11:30–12:00

Robert Grant

St. George's, University of London and Kingston University

12:00–12:45

Nick Cox

Durham University

12:45–1:45
Lunch
1:45–2:15

Michael Crowther

Department of Health Sciences, University of Leicester

2:15–3:15

Yulia Marchenko

StataCorp, College Station, TX

3:15–3:45
Break
3:45–4:45

William Gould

StataCorp, College Station, TX

6:30
Optional dinner (additional cost)
Friday, September 12
9:30–10:00

Vincenzo Verardi

Université Libre de Bruxelles

10:00–10:30

Thomas Roca

Agence Française de Développement, AFD

10:30–11:00
Break
11:00–11:30

Daniel Bratton

MRC Clinical Trials Unit at UCL, London, UK

11:30–12:00

Aurelio Tobías, Ben Armstrong, and Antonio Gasparrini

Spanish Council for Scientific Research, Barcelona; LSHTM

12:00–12:30

Ian R. White

MRC Biostatistics Unit, Cambridge Institute of Public Health

12:30–1:30
Lunch
1:30–2:30

John R. Thompson

Department of Health Sciences, University of Leicester

2:30–3:00

Giovanni Cerulli

CERIS (Institute for Economic Research on Firm and Growth), Roma

3:00–3:30
Break
3:30–4:00

Christopher F. Baum and Mark E. Schaffer

Boston College and DIW Berlin; Heriot-Watt University, CEPR and IZA

4:00–4:30

Philippe Van Kerm

CEPS/INSTEAD, Luxembourg

4:30–close

Wishes and grumbles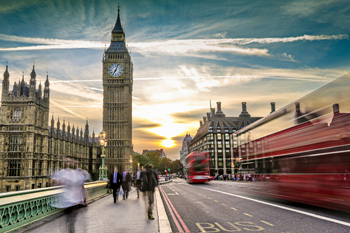 Big Ben in London
Registration
Registration is closed.
Timberlake Consultants, as logistics organizer, generously sponsors registration fee waivers for presentations (one fee waiver per presentation, regardless of number of authors involved). Presenters need to register.
Timberlake can also assist delegates with sourcing accommodation and other general inquiries regarding traveling or staying in London.
Visitors to London might like to know that, by British standards, September is usually relatively dry and warm.
Organizers
Scientific organizers
Logistics organizer
View the proceedings of previous Stata Users Group meetings.