2013 UK Stata Users Group meeting
Dates:
September 12–13, 2013
Venue:
Cass Business School
Bunhill Row
London EC1Y 8TZ
UK
Cost:

Non-students
Students
Both days
£96.00
£66.00
Single day
£66.00
£48.00
Dinner (optional)
£36.00

All prices include VAT.
Presenters enjoy reduced rates; see the registration information below.
Submission deadline:
May 31, 2013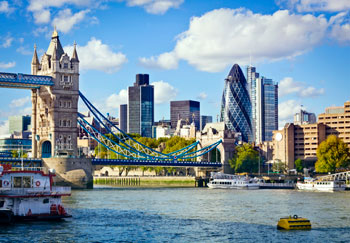 View of London's financial district from the River Thames
Call for presentations
The 2013 UK Stata Users Group meeting is a two-day international conference where the use of Stata is discussed across a wide-ranging breadth of fields and environments. The conference will comprise a series of selected presentations and feature presentations from StataCorp representatives.
Established in 1995, the UK meeting is the longest-running series of Stata Users Group meetings. The meeting is open to all interested; in past years, participants have traveled from around the world to attend the event. Representatives from StataCorp will be in attendance.
Submission guidelines
Presentations are sought on topics that include the following:
discussion of user-written Stata programs
case studies of research or teaching using Stata
discussions of data management problems
reviews of analytical issues
surveys or critiques of Stata facilities in specific fields
Please email the scientific organizers if you are interested, indicating whether you wish to give
a 20-minute talk (followed by a 10-minute discussion);
a 10-minute talk (followed by a 5-minute discussion); or
a longer review or tutorial (about an hour).
The meeting will include the usual "wishes and grumbles" session, at which you may air your thoughts to Stata developers, and (at additional cost) the option of an informal meal at a London restaurant in the evening on Thursday, September 12, 2013.
Please send submissions to the scientific organizers before May 31, 2013. The final program will be available by July 26, 2013.
Registration
Registration is closed.
Timberlake Consultants sponsors registration fee waivers for presentations (one fee waiver per presentation, regardless of number of authors involved). However, presenters must still register their place. Timberlake will also pay a small fee to a presenter of a longer review or tutorial paper.
Timberlake can also assist delegates with sourcing accommodation and other general inquiries regarding traveling or staying in London.
Lunches, refreshments, and all meeting materials are included with the registration fees.
Organizers
Scientific organizers
Stephen P. Jenkins
London School of Economics and Political Science
s.jenkins@lse.ac.uk

Roger B. Newson
Imperial College London
r.newson@imperial.ac.uk

Logistics organizer
View the proceedings of previous Stata Users Group meetings.