2012 Spanish Stata Users Group meeting
Date:
September 12, 2012
Venue:
Sala de Juntes - edificio 696
Facultat d'Economia i Empresa
Universitat de Barcelona (UB)
Avda. Diagonal, 696.
Barcelona 08034
Spain
Cost:
60€ regular; 30€ student


Fee includes coffee breaks, lunch, and course materials.

Submission deadline:
June 22, 2012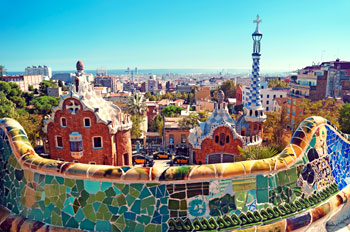 Park Güell in Barcelona, Spain
Announcement and call for presentations
The 2012 Spanish Users Group meeting will be held at Universitat de Barcelona (UB) in Barcelona, Spain, on September 12. This meeting will provide Stata users the opportunity to exchange ideas, experiences, and information on new applications of Stata. Anyone interested in using Stata is welcome. A guest speaker from StataCorp will be in attendance.
The meeting will include the usual "Wishes and grumbles" session, during which you may air your thoughts to Stata developers. You also have the choice to attend an informal dinner (at additional cost) in Barcelona.
The conference will be conducted mostly in English. Papers will be accepted in both Spanish and English, with English being the preferred language.
Submission guidelines
Presentations are welcome on any Stata-related topic, including the following:
user-written Stata programs
case studies of research or teaching using Stata
discussions of data-management problems
surveys or critiques of Stata facilities in specific fields
Please email the scientific organizers before June 22 if you are interested in presenting a paper. Email the abstract (maximum 200 words), along with your name, affiliation, and telephone number. Also indicate in your email whether you wish to give
a 20-minute presentation (followed by 10-minute discussion) or
a 10-minute presentation (followed by a 5-minute discussion)
The scientific committee will make a preliminary selection based on submitted abstracts by June 29. The scientific organizers look forward to hearing from you with your presentation offers.
Registration
To register, please send an email to Timberlake Consulting S.L. at info@timberlakeconsulting.com; they will email you the registration form that you will need to fill out and return before September 7.
You will need to travel at your own expense. The meeting fee covers coffee breaks, lunch, and course materials. There will also be an optional dinner at a restaurant (to be announced) at an additional cost of approximately 40€. Timberlake Consulting S.L. generously waives the registration fee for presenters (only one fee waiver per presentation, regardless of the number of authors involved).
Organizers
Scientific organizers
Llorenç Quinto
Hospital Clinic UB
lquinto@clinic.ub.es

Raúl Ramos
AQR-IREA, Universitat de Barcelona
rramos@ub.edu

Vicente Royuela
AQR-IREA, Universitat de Barcelona
vroyuela@ub.edu

Sergi Sanz
Hospital Clinic UB
ssanz@clinic.ub.es

Logistics organizer
Timberlake Consulting S.L.
www.timberlakeconsulting.com
View the proceedings of previous Stata Users Group meetings.