2011 Spanish Stata Users Group meeting
Announcement and call for presentations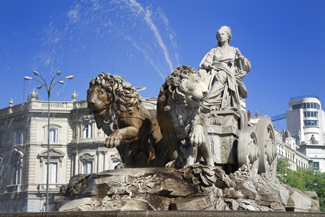 Cibeles Fountain, symbol of Madrid
The 2011 Spanish Users Group meeting will take place in Madrid on September 22. This meeting will provide Stata users the opportunity to exchange ideas, experiences, and information on new applications of Stata. Anyone interested in using Stata is welcome.
This year's guest speaker will be Alfonso Miranda from the Department of Quantitative Social Science at the Institute of Education, University of London. He will give a talk, "Efectos de Tratamiento Endógeno para Modelos de Datos de Conteo con Participación Endógena o Selección de Muestra".
Attending from StataCorp are David Drukker, Director of Econometrics, and Bill Gould, Head of StataCorp Development. David will give the talk "Filtrado y Descomposición de Series Temporales".
Call for presentations
Presentations are welcome on any Stata-related topic, including
user-written Stata programs,
case studies of research or teaching using Stata,
discussion of data-management issues, and
surveys or critiques of Stata facilities in specific fields.
The conference will be conducted mostly in Spanish, though papers will be accepted in both Spanish and English.
Please email the scientific organizers before June 17 if you are interested in presenting a paper. Submit in the email an abstract (maximum 200 words), along with your name, affiliation, and telephone number. Also indicate in your email whether you wish to give
a 20-minute talk (followed by a 10-minute discussion) or
a 10-minute talk (followed by a 5-minute discussion).
The scientific committee will make a preliminary selection based on submitted abstracts by June 30. If your presentation is selected, the final version should be sent in PowerPoint or as a PDF to the scientific committee before September 3, 2011. The scientific organizers look forward to hearing from you with your presentation offers.
The meeting will include the usual "Wishes and grumbles" session, during which you may air your thoughts to Stata developers. You also have the choice to attend an informal dinner for an additional cost (approximately €35) on Thursday evening in Madrid.
Registration
To register, please send an email to info@timberlakeconsulting.com, and Timberlake Consulting will email you the registration form that you will need to fill out and return to them before September 9.
Please travel at your own expense. The meeting cost covers coffee breaks, lunch, and course material. There will also be an optional dinner at a restaurant (to be announced) at an additional cost of approximately €35.
Timberlake Consulting S.L. generously sponsors registration fee waivers (only one fee per presentation, regardless of the number of authors involved).
Organizers
Scientific organizers
D. Modesto Escobar
Univ. Salamanca
modesto@usal.es
D. Ricardo Mora
Univ. Carlos III de Madrid
ricmora@eco.uc3m.es
D. Sergi Sanz and D. Llorenç Quinto
Hospital Clínico UB
ssanz@clinic.ub.es and lquinto@clinic.ub.es
Scientific advisor
D. Aurelio Tobías
Spanish Council for Scientific Research (CSIC)
aurelio.tobias@gmail.com
Logistics organizer
Timberlake Consulting S.L., distributor of Stata in Spain, Brazil, Ireland, Poland, Portugal, and the United Kingdom
info@timberlakeconsulting.com