2010 Spanish Stata Users Group meeting
Progam announcement
We are happy to announce the 2010 Spanish Stata Users Group meeting, which will take place in Madrid on September 14. This meeting will provide Stata users the opportunity to exchange ideas, experiences, and information on new applications of Stata. Anyone interested in using Stata is welcome.
David Drukker from StataCorp will present a course on panel data, free to everyone attending the meeting.
The conference will be conducted in Spanish.
Program
10:00–10:15
10:15–11:00

David Drukker

StataCorp

11:00–11:30
Coffee break
11:30–12:30

Presentations by Stata users

Aurelio Tobías

IDAEA-CSIC, Barcelona

María José Bleda

CID-CSIC, Barcelona

Llorenç Quintó

CRESIB – Hospital Clínic de Barcelona

Javier Lázaro

Javier Zamora

Víctor Abraira

Hospital Ramón y Cajal, Madrid – CIBERESP

Raul Ramos

Vicente Royuela

AQR-IREA, Universitat de Barcelona

Coro Chasco

Unversidad Autónoma de Madrid

Julie Le Gallo

Université de Franche-Comté

Arturo Leccadito

Università della Calabria

Omar Rachedi

Universidad Carlos III de Madrid

Giovanni Urga

Cass Business School, London

Pedro Henrique Sant'Anna

Universidad Carlos III de Madrid

Fabio Gomes

Insper Instituto de Pesquisa e Ensino

Márcio Salvato

IBMEC-MG – EPGE/FGV-RJ

12:30–1:00

Wishes and grumbles

David Drukker

StataCorp

1:00–2:30
Lunch
2:30–6:30

David Drukker

StataCorp
Registration
Please travel at your own expense. The meeting fee covers coffee breaks, lunch, and course materials. There will also be an optional dinner at a restaurant (to be announced) at an additional cost of approximately 30€.
Timberlake Consulting S.L. generously sponsors registration fee waivers for presenters (only one fee waiver per presentation, regardless of the number of authors involved). Click here to register.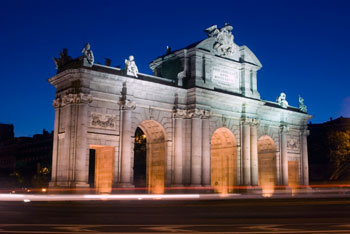 Puerto de Alcala, Madrid
For proceedings of previous Stata Users Group meetings, visit www.stata.com/meeting/proceedings
Organizers
Scientific organizers
D. Aurelio Tobias
Instituto de Diagnóstico Ambiental y Estudios del Agua del CSIC
aurelio.Tobias@gmail.com
D. Javier Ballesteros
UPV-EHU, Departamento de Neurociencias
javier.ballesteros@ehu.es
Scientific Adviser
Omar Rachedi
Universidad Carlos III de Madrid
Omar.Rachedi@city.ac.uk
Logistics organizer
Timberlake Consulting S.L., distributors of Stata in the United Kingdom, Brazil, Ireland, Poland, Portugal, and Spain.