2012 Polish Stata Users Group meeting
Date:
October 19, 2012
Venue:
Faculty of Economic Sciences
Warsaw University
ul. Długa 44/50
PL-00241 Warsaw
Poland
Cost:
60 PLN regular; 30 PLN student

Submission deadline:
September 7, 2012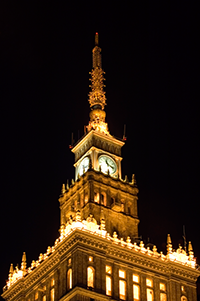 Palace of Culture and Science in Warsaw, Poland
Announcement and call for presentations
The 2012 Polish Stata Users Group meeting will be held at Warsaw University in Warsaw, Poland, on October 19, 2012. Users will have the opportunity to share their scientific achievements and the results of their empirical research using Stata. In addition, there will be a contest for students who use Stata in their scientific work, as well as a master lecture addressed to both experienced Stata users and non-Stata users.
Submission guidelines
Presentations are sought on topics that include the following:
discussions of user-written Stata programs
case studies of research or teaching using Stata
discussions of data-management problems
reviews of analytical issues
surveys or critiques of Stata facilities in specific fields
To submit an abstract, fill out the application and email it to biuro@timberlake.pl by September 7, 2012. The scientific committee will make its selection by September 14. Final presentations are due by October 1, 2012. If you need to withdraw your submission, please notify the organizers as soon as possible.

Abstracts may be up to one A4-page long. Editorial requirements for the final paper and presentation will be sent in a separate email confirming the paper's selection. Presentations should last 15–20 minutes and can be in either English or Polish.

Timberlake Consultants Ltd. reserves the right to use paper excerpts and author information in promotional materials and on its website.
Registration
To attend the meeting, fill out the application form, and email it to Timberlake Consultants, Ltd. The deadline for payment is September 19, 2012. Complete payment information can be found on the meeting website.
If you need assistance in booking accommodations, email the logistics organizers.
Organizers
Scientific organizers
Logistics organizer
Timberlake Consultants Ltd.
biuro@timberlake.pl
timberlake.pl
Phone: +48 517 465 857
View the proceedings of previous Stata Users Group meetings.