2014 Encuentro de Usuarios de Stata en México (English)
Fecha:
13 de noviembre
Lugar:
Marriott Reforma Hotel
Paseo de la Reforma No. 276
Col. Juárez México, D.F.
Costo:
$1,700.00 (pesos) + IVA (16%) profesionales;
$850.00 (pesos) + IVA (16%) estudiantes
MultiON:
Anuncio oficial
MultiON Consulting y Stata te invitan a participar en el EUSMEX 2014 (Encuentro Internacional de Usuarios de Stata en México), el cual se realizará el día 13 de noviembre de 2014 en Marriott Reforma, Ciudad de México.

Este año el profesor Joseph V. Terza (Universidad de Indiana-Universidad de Purdue) nos honra con su presencia para dictar la Conferencia Magistral del encuentro. El profesor Terza es un líder con reconocimiento internacional en los campos de la econometría y la economía de la salud.

Además, ha escrito más de 20 artículos en revistas científicas de alto prestigio en economía, como Review of Economics and Statistics, Journal of Econometrics, Journal of Business and Economic Statistics, Health Economics, Journal of Health Economics, y Econometric Reviews and Economics, entre otras.

EUSMEX 2014 es un encuentro internacional, en la que los temas más interesantes e innovadeores en econometría y estadística serán debatidos en una conferencia magistral, así como en ponencias seleccionadas por el Comité Científico.

Más información de MultiON Consulting, el organizador de la encuentro y distribuidor para México.
Programa
Jueves, 13 de noviembre
8:30–8:45
Registration
8:45–9:00
Welcome
9:00–9:20

Gladys García Sandoval

Universidad Autónoma de Aguscalientes

9:20–9:40

Isaías H. Salgado-Ugarte

UNAM

Marco A. Pérez-Hernández

UNAM

9:40–10:40

Gustavo Sanchez

StataCorp

10:40–11:00
Break
11:00–11:20

Carlos Alberto Francisco Cruz

FAO México

Jorge Lara Alvarez

FIRA

Juan Francisco Islas Aguirre

FAO México

11:20–11:40

Alfonso Miranda

CIDE

Yu Zhu

University of Dundee

11:40–12:00

Alfonso Mendoza Velázquez

CIIE-UPAEP

12:00–1:00

Isabel Canette

StataCorp

1:00–2:00
Lunch
2:00–3:30

Joseph V. Terza

Indiana University–Purdue University

3:30–4:00
Break
4:00–4:20

G. Arteaga-Troncoso

National Institute of Perinatology

4:20–4:40

E. Abdelkrim Araar

Université Laval & CIRPÉE

Luis Huesca

CIAD & CIRPÉE

Arturo Robles Valencia

CIAD

4:40–5:00

Report to users and wishes and grumbles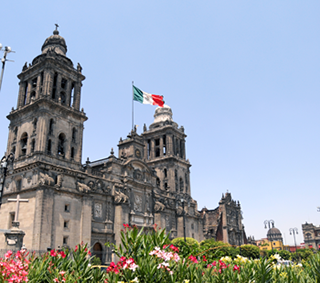 Catedral Metropolitana de la Ciudad de México
Registro
Organizadores
Comité Científico:
Alfonso Miranda
Centro de Investigación Docencia Económicas A.C.

Armando Sanchez Vargas
Universidad Nacional Autónoma de México and Virginia Tech

Organizador Logístico:
MultiON Consulting S.A. de C.V., Distribuidor de Stata en México, América Latina y Caribe.
Michelle Sagrero
Mercadotecnia
+52 (55) 5559 4050 Ext. 160