2014 Mexican Stata Users Group meeting (Español)
Date:
November 13, 2014
Venue:
Marriott Reforma Hotel
Paseo de la Reforma No. 276
Col. Juárez México, D.F.
Cost:
$1,700.00 pesos + VAT (16%) professionals;
$850.00 pesos + VAT (16%) students
MultiON:
Official announcement
MultiON Consulting and Stata invite you to participate in EUSMEX 2014 (International Stata Users Meeting in Mexico), which will take place on November 13, at the Marriott Reforma Hotel in Mexico City. The meeting is open to anyone interested in Mexico or abroad.
This year Professor Joseph V. Terza, Indiana University–Purdue University, will deliver the keynote lecture. Professor Terza is a world-renowned leader in the fields of econometrics and health economics.
He has authored over 20 papers in highly regarded journals, including the Review of Economics and Statistics, Journal of Econometrics, Journal of Business and Economic Statistics, Health Economics, Journal of Health Economics, and Econometric Reviews and Economics.
EUSMEX 2014 is an international gathering where the most relevant and innovative topics in econometrics and statistics are discussed in a keynote lecture and papers selected by the scientific committee.
Learn more from MultiON Consulting, the meeting organizer and distributor for Mexico.
Program
Thursday, November 13
8:30–8:45
Registration
8:45–9:00
Welcome
9:00–9:20

Gladys García Sandoval

Universidad Autónoma de Aguscalientes

9:20–9:40

Isaías H. Salgado-Ugarte

UNAM

Marco A. Pérez-Hernández

UNAM

9:40–10:40

Gustavo Sanchez

StataCorp

10:40–11:00
Break
11:00–11:20

Carlos Alberto Francisco Cruz

FAO México

Jorge Lara Alvarez

FIRA

Juan Francisco Islas Aguirre

FAO México

11:20–11:40

Alfonso Miranda

CIDE

Yu Zhu

University of Dundee

11:40–12:00

Alfonso Mendoza Velázquez

CIIE-UPAEP

12:00–1:00

Isabel Canette

StataCorp

1:00–2:00
Lunch
2:00–3:30

Joseph V. Terza

Indiana University–Purdue University

3:30–4:00
Break
4:00–4:20

G. Arteaga-Troncoso

National Institute of Perinatology

4:20–4:40

E. Abdelkrim Araar

Université Laval & CIRPÉE

Luis Huesca

CIAD & CIRPÉE

Arturo Robles Valencia

CIAD

4:40–5:00

Report to users and wishes and grumbles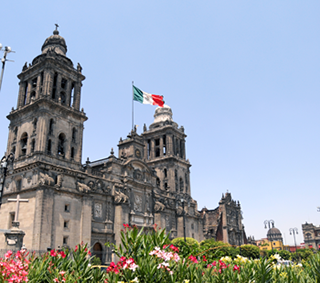 Metropolitan Cathedral in Mexico City
Registration
Organizers
Scientific committee:
Alfonso Miranda
Centro de Investigación Docencia Económicas A.C.

Armando Sanchez Vargas
Universidad Nacional Autónoma de México and Virginia Tech

Logistics organizer:
MultiON Consulting S.A. de C.V., the distributor of Stata in Mexico, Belize, Costa Rica, El Salvador, Guatemala, Honduras, Nicaragua, and Panama.
Joel Cervantes
Sales Specialist
+52 (55) 5559 4050 Ext. 119
View the proceedings of previous Stata Users Group meetings.