2014 Mexican Stata Users Group meeting (Español)
Date:
November 13, 2014
Venue:
Marriott Reforma Hotel
Paseo de la Reforma No. 276
Col. Juárez México, D.F.
Cost:
$1,700.00 pesos + VAT (16%) professionals;
$850.00 pesos + VAT (16%) students
MultiON Consulting and Stata invite you to participate in EUSMEX 2014 (International Stata Users Meeting in Mexico), which will take place on November 13, at the Marriott Reforma Hotel in Mexico City.
This year Professor Joseph V. Terza, Indiana University–Purdue University, will deliver the keynote lecture. Professor Terza is a world-renowned leader in the fields of econometrics and health economics.
He has authored over 20 papers in highly regarded journals, including the Review of Economics and Statistics, Journal of Econometrics, Journal of Business and Economic Statistics, Health Economics, Journal of Health Economics, and Econometric Reviews and Economics.
EUSMEX 2014 is an international gathering where the most relevant and innovative topics in econometrics and statistics are discussed in a keynote lecture and papers selected by the scientific committee.
Submission guidelines
All submitted proposals should demonstrate theoretical rigor and a hands-on approach. The speaker should offer good details of the methods being used and provide one or two worked-out examples that show how the model can be solved with Stata.
Rather than discussing the results for a specific empirical application, the speaker should focus on the methods and their implementation in Stata. Discussing the implementation or use of a method with a real-life application is welcome. There is no need to use real data; using simulated data is acceptable.
Presentation topics might include the following
Discussion of user-written Stata programs
Case studies of research or teaching using Stata
Discussions of data management problems
Reviews of analytical issues
Surveys or critiques of Stata facilities in specific fields
After each submission, there will be a question-and-answer session with Stata's developers.
The deadline for papers is October 15. Proposals should be sent to a member of the scientific committee indicating whether you wish to give
a 15-minute talk followed by a 5-minute discussion;
a 25-minute talk followed by a 5-minute discussion; or
a longer review or tutorial (about an hour).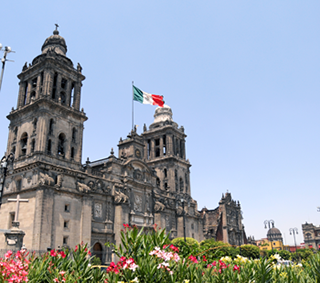 Metropolitan Cathedral in Mexico City
Registration
MultiON Consulting will sponsor the cost of a single registration per selected paper regardless of number of authors involved.
Organizers
Scientific committee:
Alfonso Miranda
Centro de Investigación Docencia Económicas A.C.

Armando Sanchez Vargas
Universidad Nacional Autónoma de México and Virginia Tech

Logistics organizer:
MultiON Consulting S.A. de C.V., the distributor of Stata in Mexico, Belize, Costa Rica, El Salvador, Guatemala, Honduras, Nicaragua, and Panama.
Joel Cervantes
Sales Specialist
+52 (55) 5559 4050 Ext. 119
View the proceedings of previous Stata Users Group meetings.