2011 Mexican Stata Users Group meeting
Date:

May 12, 2011
Venue:
Institute for Economic Research, National Autonomous University of Mexico, Circuito Mario de la Cueva, Ciudad de la Investigación en Humanidades, Ciudad Universitaria, C.P.04510, México, D.F.
Cost:
Professionals: 1,700 pesos*
Students: 850 pesos*

Submission deadline:

March 19, 2011
Registration closed.
Announcement and call for presentations
The Mexican Stata Users Group meeting is a one-day international conference about the use of Stata in a wide breadth of fields and environments, mixing theory and practice. The bulk of the conference is made up of selected submitted presentations. Together with the keynote address and a featured presentation by a member of StataCorp's technical staff, these sessions provide fertile ground for learning about statistics and Stata. All users are encouraged to submit abstracts for possible presentations.
Presentation topics might include (but are not limited to) the following:
new user-written commands, including commands for modeling and estimation, graphical analysis, data management, or reporting
use or evaluation of existing Stata commands
methods for teaching statistics with Stata or teaching the use of Stata
case studies of Stata use in novel areas or applications
surveys or critiques of Stata facilities in specific fields
comparisons of Stata to other software or use of Stata together with other software
We are delighted that Professor A. Colin Cameron (University of California–Davis) has accepted our invitation to present the keynote address. Professor Cameron is a world-known leader in the fields of econometrics and health economics. He is an author (jointly with Pravin K. Trivedi) of well-known textbooks in econometrics such as Microeconometrics: Methods and Applications, Regression Analysis of Count Data, and Microeconometrics Using Stata. He has authored more than 25 papers in highly regarded journals, including Quarterly Journal of Economics, Journal of Public Economics, Journal of Econometrics, Review of Economic Studies, Journal of Business and Economic Statistics, and Journal of Applied Econometrics, among others.
The meeting will include the usual "Wishes and grumbles" session, at which you may share your thoughts with Stata developers. After the meeting, there will be an optional informal meal (for an additional cost) at a Mexico City restaurant for further discussion of all things Stata.
The meeting is organized by MultiON Consulting SA de CV, distributor of Stata for Mexico and Central America. The meeting is open to everyone, and StataCorp will be represented.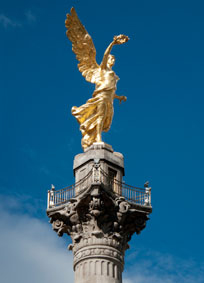 Independence Angel, Mexico City
Submissions
The deadline for submissions is March 19, 2011. The program will be announced by the end of the second week of April. Please send submissions by email to the scientific committee. Indicate the length of the talk you wish to give:
a 15-minute talk (followed by a 5-minute discussion)
a 25-minute talk (followed by a 5-minute discussion)
a longer review or a tutorial (about an hour long)
Presentations may be given in English or in Spanish, depending upon the preference of the speaker.
Contact the scientific committee if you have questions regarding the suitability of a potential contribution. For all other matters, contact the logistics organizer.
Registration
MultiON Consulting generously sponsors registration fee waivers for presentations (one fee waiver per presentation, regardless of the number of authors).
Organizers
Scientific committee:
Alfonso Miranda (chair)
Institute of Education, University of London
Email: A.Miranda@ioe.ac.uk
Armando Sánchez Vargas
Institute for Economic Research, National Autonomous University of Mexico
Email: sva@economia.unam.mx
Graciela Teruel Belismelis
Economics Department, Iberoamerican University
Email: graciela.teruel@s2.uia.mx
Logistics organizer:
MultiON Consulting SA de CV, distributor of Stata in Mexico and Central America
Victoria Leon
Email: vleon@multion.com.mx
Phone: +52 (55) 5559 4050 x 160