2010 Mexican Stata Users Group meeting
English |
Español
Date:

April 29, 2010
Venue:
Universidad Iberoamericana, Mexico City campus
Prolongación Paseo de la Reforma 880, Lomas de Santa Fe, México C.P. 01219, Distrito Federal, México
Cost:
Professionals: 1,160 pesos*
Students: 580 pesos*


| | |
| --- | --- |
| * | Cost includes VAT, temporary license of Stata, coffee, refreshments, and lunch. |

Registration closed.
Program announcement
The second Stata Users Group meeting in Mexico will be held on Thursday, April 29, 2010, at the Universidad Iberoamericana in Mexico City. The meeting is open to all interested. StataCorp will be represented.
Program
Thursday, April 29, 2010
8:30 AM–9:00 AM
Registration
9:00 AM–9:30 AM
Welcome
9:30 AM–10:00 AM

Omar Stabridis

Janet Zamudio

Mario Paulín

Consejo Nacional de Evaluación de la Política de Desarrollo Social

10:00 AM–10:20 AM

Víctor H. Pérez

Dulce Cano

Rocío Espinosa

Consejo Nacional de Evaluación de la Política de Desarrollo Social

10:20 AM–10:40 AM

Carlos Guerrero de Lizardi

Manuel Lara Caballero

Instituto Tecnológico de Estudios Superiores de Monterrey

10:40 AM–11:15 AM
Break
11:15 AM–11:35 AM

Delfino Vargas Chanes

Colegio de México

Maria Merino

ITAM

11:35 AM–11:55 AM

Alicia Santana Cartas

Universidad Iberoamericana

12:00 PM–1:00 PM

Pravin K. Trivedi

Indiana University

1:00 PM–2:00 PM
Lunch
2:00 PM–2:30 PM

Alfonso Miranda

Institute of Education, University of London

2:30 PM–3:00 PM

Luis Huesca

Mario Camberos

Centro de Investigación en Alimentación y Desarrollo

3:00 PM–4:00 PM

David Drukker

Director of Econometrics, StataCorp LP

4:00 PM–4:15 PM
Break
4:15 PM–4:45 PM

Irma Gisela Nieto-Castañeda

María Luisa Jiménez-Jiménez

Isaías H. Salgado-Ugarte

Centro de Investigaciones Biológicas del Noroeste, S.C. y FES Zaragoza UNAM

4:45 PM–5:15 PM

Armando Sánchez Vargas

Institute for Economic Research, UNAM

5:15 PM–5:30 PM
Break
5:30 PM–6:30 PM

Isabel Cañette

StataCorp LP

6:30 PM–end of day

Report to users and "Wishes and grumbles"

David Drukker

Director of Econometrics, StataCorp LP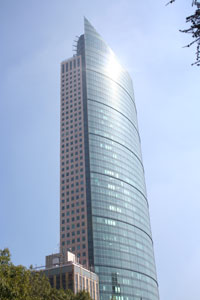 Torre Mayor in Mexico City
Language
The meeting will be bilingual with no translations of any kind. Presentations can be delivered in either English or Spanish according to the preference of the presenter.
Registration
MultiON Consulting generously sponsors registration fee waivers for presenters (one fee waiver per presentation, regardless of the number of authors involved).
Organizers
Scientific committee
Alfonso Miranda (chair)
Institute of Education
University of London
A.Miranda@ioe.ac.uk
Landy Sanchez Peña
Colegio de México
lsanchez@colmex.mx
Logistics organizer
MultiON Consulting S.A. de C.V. is the distributor of Stata in Mexico and Central America. Visit the MultiON Consulting website at www.multion.com.mx.
Joaquín Maury (main director)
MultiON Consulting S.A. de C.V.
jmaury@multion.com.mx