2012 Italian Stata Users Group meeting
Date:
September 20–21, 2012
Venue:
Grand Hotel Majestic "Giá Baglioni"
Via Indipendenza, 8
40121 Bologna
Italy
Cost:

Regular
Students
Meeting only
€ 95
€ 76
Meeting +
training course
€ 400
€ 280

Prices do not include local sales tax, which is 21%.
Submission deadline:
June 30, 2012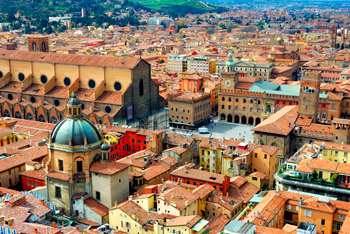 View of skyline over Piazza Maggiore in Bologna, Italy
Announcement and call for presentations (in Italiano)
The 2012 Italian Stata Users Group meeting will be held at the Grand Hotel Majestic "Giá Baglioni" in Bologna on September 20–21, 2012. The first day of the meeting will comprise five sessions; the second day of the meeting will comprise two training courses (one in Italian and one in English).
The meeting provides Stata users working in different research areas with a unique opportunity to exchange ideas, experiences, and information on user-written routines and applications. Stata users interested in contributing to the meeting are encouraged to submit their proposals to the scientific committee. As in previous years, the emphasis will be on the development of new commands or procedures currently unavailable in Stata. Also encouraged are proposals based on the use of Stata in previously unpublished empirical research and other general-interest applications of Stata, such as data management or teaching with Stata.
Submission guidelines
If you are interested in presenting your work, please submit an abstract to the scientific committee in electronic format at statausers@tstat.it by June 30. Please include your name, affiliation, and telephone number in the email. A preliminary selection will be made by the scientific committee on the basis of submitted abstracts by July 10. If your paper is selected, you must submit the final version of the paper to the conference organizer by August 20, 2012.
Presentations are normally 20 minutes long followed by 5 minutes of discussion; however, longer presentations are also welcome. Please indicate an estimated presentation time when you submit your paper.
Training courses
Preliminary program
September 20
9:00–9:15
Registration
9:15–10:45

Session I: Invited speaker

Missing data: Issues, ad-hoc approaches, and principled alternatives

Jonathan Bartlett

London School of Hygiene and Tropical Medicine

10:45–11:00
Coffee
11:00–12:45

Session II: User-written commands and routines I

12:45–2:15
Lunch
2:15–3:30

Session III: Exploiting the potential of Stata 12

Bill Rising

StataCorp

3:30–4:45

Session IV: User-written commands and routines II

4:45–5:00
Coffee
5:00–5:30

Session V: Report to users and "Wishes and grumbles"

Bill Rising

StataCorp

6:30–8:00
Guided tour of Bologna in Italian (optional)
8:30
Dinner (optional)
Registration
Please submit your completed registration form to TStat S.r.l. via email, fax, or mail by September 10, 2012.
TStat S.r.l.
Via Rettangolo, 12/14
67039 Sulmona (AQ)
Italy
statausers@tstat.it
Tel: +39 0864 210101
Fax: +39 0864 206014

Organizers
Scientific organizers
Una-Louise Bell
TStat S.r.l.
Rino Bellocco
Università degli Studi di Milano–Bicocca and
Karolinska Institutet
Giovanni Capelli
Università degli Studi di Cassino
Marcello Pagano
Harvard School of Public Health
Maurizio Pisati
Università degli Studi di Milano–Bicocca
Logistics organizer
TStat S.r.l., distributor of Stata in Italy

Via Rettangolo, 12-14
67039 Sulmona - AQ
Tel: +39 0864 210101
Fax +39 0864 206014
tstat.it
View the proceedings of previous Stata Users Group meetings.