2015 German Stata Users Group meeting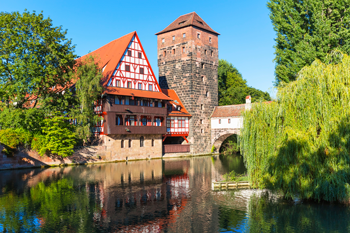 Weinstadl and Hangman's Bridge in Nuremberg, Germany
The 13th German Stata Users Group meeting will be held at the Institute for Employment Research (IAB) on Friday, June 26, 2015. All Stata users, from Germany and elsewhere, or those interested in learning about Stata are invited to attend.
The conference language will be English because of the international nature of the meeting and the participation of non-German guest speakers.
Program
Friday, June 26
9:00–9:15
Registration
9:15–9:30
Welcome
9:30–10:30

Matthias Schonlau

University of Waterloo, Canada

10:30–11:30

David Drukker

StataCorp LP

11:30–11:45
Coffee
11:45–12:15

Tamás Bartus

Corvinus University of Budapest

12:15–12:45

Hans-Jürgen Andreß

University of Cologne

Maximilian Hörl

University of Cologne

Alexander Schmidt-Catran

University of Cologne

12:45–1:45
Lunch
1:45–2:15

Harald Tauchmann

Friedrich-Alexander-Universität Erlangen-Nürnberg

2:15–2:45

Anna de Castellarnau

Research and Expertise Centre for Survey Methodology, University Pompeu Fabra

2:45–3:15

Frank Ebert

Ebert Beratung und Innovationen GmbH

3:15–3:30
Coffee
3:30–4:00

Ulrich Kohler

University of Potsdam

4:00–4:30

Daniel Klein

University of Kassel

4:30–5:00

Ben Jann

University of Bern

5:00–5:15
Coffee
5:15–6:30

Report to users / Wishes and grumbles

Bill Rising

StataCorp LP
Registration
Participants are asked to travel at their own expense. There will be a small conference fee to cover costs for refreshments and lunch. There will also be an optional informal meal at a restaurant in Nuremberg on Friday evening at additional cost.
You can enroll by contacting Christiane Senczek by email, letter, or telephone.
Christiane Senczek
Dittrich & Partner Consulting GmbH
Prinzenstr. 2
42697 Solingen
GERMANY
Tel: +49 (0) 212 2 60 66-51
Fax: +49 (0) 212 2 60 66-66
Web: www.dpc-software.de
| | |
| --- | --- |
| IMPORTANT NOTES: | All participants must present a valid ID to enter the conference venue. |
| | Workshop and User Meeting registration deadline: 06/15/2015 |
Organizers
Scientific Organizers
Johannes Giesecke
Humboldt University of Berlin

Stephanie Eckman
Institute for Employment Research (IAB)

Logistics organizer
Dittrich & Partner Consulting GmbH, the distributor of Stata in several countries, including Germany, the Netherlands, Austria, Czech Republic, and Hungary.
For further information, contact info@dpc.de.
View the proceedings of previous Stata Users Group meetings.