2014 German Stata Users Group meeting
Meeting date:
June 13, 2014
Meeting venue:
University of Hamburg
Van-Melle-Park 6 ("Philosophenturm")
Hörsaal E (ground floor)
Hamburg, Germany
Workshop:
Visualization of Statistical Data Using Stata
by Ulrich Kohler
June 12, 2014
Cost:
Meeting only: €45 regular; €25 students
Workshop only: €65 (no discounts)
Meeting + workshop: €85


Prices cover coffee, tea, and luncheons, and include VAT.
We would like to announce the 12th German Stata Users Group meeting to be held at the University of Hamburg on Friday, June 13, 2014. There will also be an optional workshop on June 12. We invite everybody from anywhere who is interested in using Stata to attend this meeting.
The conference language will be English because of the international nature of the meeting and the participation of non-German guest speakers.
Program
Friday, June 13
8:30–9:00
Registration
9:00–9:15
Welcome
9:15–10:15

Erik T. Parner

Aarhus University, Denmark

10:15–11:15

Brendan Halpin

University of Limerick, Ireland

11:15–11:30
Coffee
11:30–12:30

David Drukker

StataCorp LP

12:30–1:30
Lunch
1:30–2:00

Ulrich Kohler

University of Potsdam, Germany

2:00–2:30

Klaudia Erhardt

DIW Berlin, Germany

Ralf Künster

WZB Berlin, Germany

2:30–3:00

Heinz Leitgöb

University of Linz, Austria

3:00–3:15
Coffee
3:15–4:15

David Drukker

StataCorp LP

4:15-4:45

Bill Rising

StataCorp LP

4:45–5:00
Coffee
5:00–5:30

Ben Jann

University of Bern, Switzerland

5:30–6:15

Report to users / wishes and grumbles

Bill Rising

StataCorp LP
Registration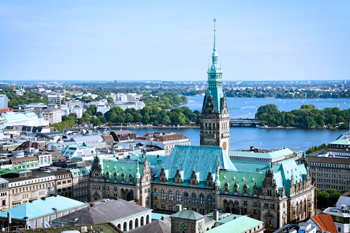 Town hall in Hamburg, Germany
Participants are asked to travel at their own expense. There will be a small conference fee to cover costs for refreshments and lunch. There will also be an optional informal meal at a restaurant in Hamburg on Friday evening at additional cost. Details will be given at the conference.
You can enroll by completing the online registration form.
Organizers
Scientific Organizers
Logistics organizer
Dittrich & Partner Consulting GmbH (dpc-software.de), the distributor of Stata in several countries, including Germany, the Netherlands, Austria, Czech Republic, and Hungary.
View the proceedings of previous Stata Users Group meetings.