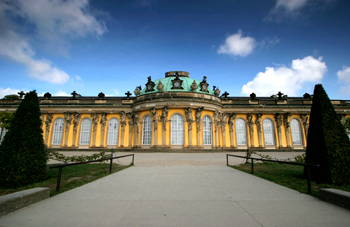 Sanssouci Palace in Potsdam, Germany
2013 German Stata Users Group meeting
The 11th German Stata Users Group Meeting will be held at the University of Potsdam on Friday, June 7, 2013. This meeting will provide Stata users from all disciplines the opportunity to exchange ideas, experiences, and information on new applications of Stata. Anyone interested in using Stata is invited to attend.
An optional workshop will be held on Thursday, June 6, from 10:00 a.m. to 6:00 p.m.
Program
08:30–09:00
Registration
09:00–09:15
Welcome
09:15–10:15

John Luke Gallup

Portland State University

10:15–11:15

David Roodman

Center for Global Development

11:15–11:30
Coffee
11:30–11:45

Daniel Bela

National Educational Panel Study (NEPS), Data Center, University of Bamberg

11:45–12:00

Hannes Neiss

German Institute for Economic Research

12:00–12:30

Christopher F. Baum

Boston College

Arthur Lewbel

Boston College

Mark E. Schaffer

Heriot–Watt University, Edinburgh

Oleksandr Talavera

University of Sheffield

12:30–1:30
Lunch
1:30–2:00

Maarten L. Buis

Social Science Research Center (WZB)

Richard Williams

University of Notre Dame

2:00–2:30

Max Löffler

Institute for the Study of Labor (IZA)

2:30–3:00

Alexander Plum

Otto-von-Guericke University Magdeburg

3:00–3:15
Coffee
3:15–3:45

Federico Belotti

University of Rome "Tor Vergata"

Gordon Hughes

University of Edinburgh

Andrea Piano Mortari

University of Rome "Tor Vergata"

3:45–4:15

Barbara Guardabascio

Italian National Institute of Statistics, Rome

Marco Ventura

Italian National Institute of Statistics, Rome

4:15–4:45

Ben Jann

University of Bern

4:45–5:00
Coffee
5:00–5:45

Report to users

Bill Rising (StataCorp)
5:45–6:30

Wishes and grumbles
Registration
Participants are asked to travel at their own expense. The conference fee will cover costs for coffee, tea, and lunch. There will also be an optional informal meal at a restaurant in Potsdam on Friday evening at additional cost.
You can enroll by emailing Anke Mrosek (anke.mrosek@dpc.de) or by writing, phoning, or faxing to
Anke Mrosek
Dittrich & Partner Consulting GmbH
Prinzenstr. 2
42697 Solingen
Tel: +49 (0) 212 260 66-24
Fax: +49 (0) 212 260 66-66

The final program, cost, and venue will be circulated in March 2013.
Organizers
Scientific organizers
Johannes Giesecke
University of Bamberg
(johannes.giesecke@uni-bamberg.de)
Ulrich Kohler
University of Potsdam
(ukohler@uni-potsdam.de)
Logistics organizer
Dittrich & Partner Consulting GmbH (dpc.de), the distributor of Stata in several countries, including Germany, The Netherlands, Austria, Czech Republic, and Hungary.
View the proceedings of previous Stata Users Group meetings.