2009 German Stata Users Group meeting
Date:

Friday, June 26, 2009

Venue:
Universitätsclub Bonn e.V.
Konviktstr. 9
D-53113 Bonn
Germany
Tel. +49 228 / 72 96 0
Cost:
€35 regular;
€15 students

Program announcement
The seventh German Stata Users Group meeting will be held on Friday, June 26, 2009, in Bonn at the Universitätsclub Bonn e.V. We would like to invite everybody from everywhere who is interested in using Stata to attend this meeting. The conference language will be English because of the international nature of the meeting and the participation of non-German guest speakers.
The meeting will include presentations about graphs, general statistics, programming, and data management, both by researchers and by StataCorp staff. The meeting will also include a "wishes and grumbles" session, during which you may air your thoughts to Stata developers. Finally, there is (at additional cost) the option of an informal meal at a Bonn restaurant on Friday evening.
For those traveling from abroad, it may be worth noting that Bonn is not only the former capital of West Germany, but is also the gateway to the Rhine gorge, which became a UNESCO World Heritage Site in 2002 and which is also known as "the Romantic Rhine" for its many castles and vineyards ("Rhine", Wikipedia, The Free Encyclopedia).
Details about accommodations and fees are given below the program.
Program

9:00–9:30
Registration
9:30–10:15

Nicholas J. Cox, n.j.cox@durham.ac.uk

Durham University

10:15–11:00

Austin Nichols, austinnichols@gmail.com

Urban Institute, Washington DC

11:00–11:15
Coffee
11:15–11:45

Philippe Van Kerm, philippe.vankerm@ceps.lu

CEPS/INSTEAD, Luxembourg

11:45–12:15

Maarten Buis, maarten.buis@ifsoz.uni-tuebingen.de

Universität Tübingen, Institut für Soziologie

12:15–12:45

Sven-Oliver Spieß, mail@svenoliverspiess.net

University of Mannheim

12:45–1:45
Lunch
1:45–2:30

Christopher F. Baum, baum@bc.edu

Boston College

2:30–3:00

Magdalena Luniak, mluniak@cs.tu-berlin.de

TU Berlin

3:00–3:15
Coffee
3:15–4:00

Bill Rising, brising@stata.com

StataCorp

4:00–4:30

Ben Jann, jannb@ethz.ch

ETH Zurich

4:30–5:00

Volker Lang, v.lang@uni-tuebingen.de

University of Tübingen

5:00–5:15
Coffee
5:15–6:00

Report to users

Bill Rising, brising@stata.com

StataCorp

6:00–6:30

Wishes and grumbles
Registration and accommodations
Please travel at your own expense. The conference fee includes coffee, teas, and luncheons. There will also be an optional, informal meal at a restaurant in Bonn on Friday evening at additional cost.
You can enroll by contacting Anke Mrosek (anke.mrosek@dpc.de) by email or by writing, phoning, or faxing:
Anke Mrosek
Dittrich & Partner Consulting GmbH
Kieler Str. 17
42697 Solingen
Germany
Tel: +49 (0) 212 260 66 24
Fax:+49 (0) 212 260 66 66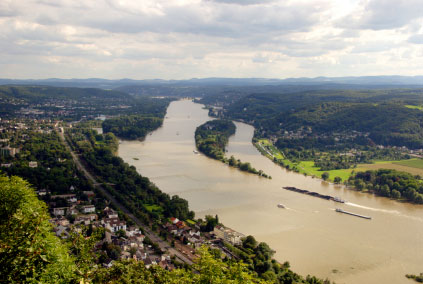 Aerial view of the Rhine Valley near Bonn
Organizers
Scientific organizers
Nikos Askitas (askitas@iza.org), Johannes Giesecke (johannes.giesecke@wzb.eu), and Ulrich Kohler (kohler@wzb.eu) are organizing the academic program of the meeting.
Logistics organizers
The logistics are being organized by Dittrich and Partner (http://www.dpc.de), the distributor of Stata in several countries including Germany, The Netherlands, Austria, Czech Republic, and Hungary.