2009 German Stata Users Group meeting
Date:

Friday, June 26, 2009

Venue:
IZA (Institute for the Study of Labor)
Schaumburg-Lippe-Str. 7 / 9
D-53113 Bonn
Germany
Cost:
€35 regular;
€15 students

Second announcement and call for papers
The seventh German Stata Users Group meeting will be held at the IDSC of IZA at the IZA Bonn on Friday, June 26, 2009. Anyone interested in Stata is invited to attend.
We are very delighted that Nicholas J. Cox and Austin Nichols have accepted our invitation to attend the meeting as international guest speakers. Nick Cox is Editor of the Stata Journal, author of a regular column "Speaking Stata", and is well known to Stata users as a programmer of many Stata programs. Austin Nichols is an economist at the Urban Institute in Washington, DC who has made important contributions to the problem of causal inference with observational data. The presentations of the international keynote speakers will be:
Among the other presentations is an introduction to programming with Mata by Christopher Baum, author of An Introduction to Stata Programming.
We still seek presentations on topics that include
user-written Stata programs,
case studies of research or teaching using Stata,
discussions of data management problems,
reviews of analytical issues, and
surveys or critiques of Stata facilities in specific fields.
The conference language will be English because of the international nature of the meeting and the participation of non-German guest speakers. (See http://www.stata.com/meeting/proceedings.html for the proceedings of other user group meetings.)
If you are interested in presenting a paper, please submit an abstract (max 200 words) online. The deadline for submissions is March 30, 2009. Please keep your presentation to 20 minutes or shorter.
A preliminary program, cost, and venue will be circulated in April 2009. The final program will be circulated in May 2009.
Registration and accomodations
Please travel at your own expense. The conference fee includes coffee, teas, and luncheons. There will also be an optional informal meal at a restaurant in Bonn on Friday evening at additional cost.
You can enroll by contacting Anke Mrosek (anke.mrosek@dpc.de) by email or by writing, phoning, or faxing
Anke Mrosek
Dittrich & Partner Consulting GmbH
Kieler Str. 17
42697 Solingen
Germany
Tel: +49 (0) 212 260 66 24
Fax:+49 (0) 212 260 66 66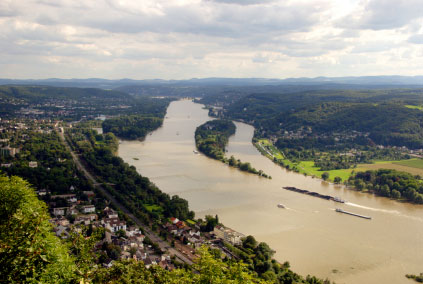 Aerial view of the Rhine Valley near Bonn
Organizers
Scientific organizers
Nikos Askitas (askitas@iza.org), Johannes Giesecke (johannes.giesecke@wzb.eu), and Ulrich Kohler (kohler@wzb.eu) are organizing the academic program of the meeting.
Logistics organizers
The logistics are being organized by Dittrich and Partner (http://www.dpc.de), the distributor of Stata in several countries including Germany, The Netherlands, Austria, Czech Republic, and Hungary.