2009 Colombian Stata Users Group meeting embedded within the First International Workshop on Applied Statistics
Announcement
The first Colombian Stata Users Group meeting will be embedded within the Universidad Santo Tomás' "First International Workshop on Applied Statistics".
During the conference, we will have four Stata presentations plus a Stata Press books presentation and a basic 16-hour Stata training. Gustavo Sanchez, Senior Statistician at StataCorp, will be attending.
Stata users from all disciplines are invited to attend.
Training
| | |
| --- | --- |
| Title: | Manejo bases de datos, series de tiempo, modelos multivariados con Stata |
| Duration: | 16 hours |
| Schedule: | 8:00 AM–12:00 PM, Monday–Thursday |
| Instructor: | Brayan Ricardo Rójas C.R.M. |
| Short Bio: | Acreditado con la Certificación Internacional en Manejo de Riesgo - CRM, impartida por el profeso Johnathan Mun. Asistente de Investigación del Departamento de Estudios Económicos del Banco de la República. Se ha desempeñado como docente de Eviews, Rats y Stata en la Facultad de Ciencias Económicas de la Universidad Nacional; así mismo, ha sido Coordinador de la Unidad de Informática de esta Facultad. |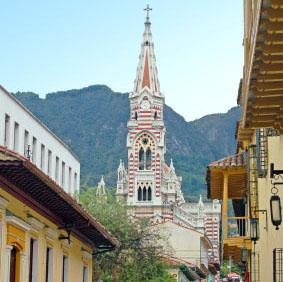 Presentations
Tuesday, November 10 (Repeated on Thursday, November 12)
Stata V11: New features
Jorge Pérez
Wednesday, November 11
Evaluación de Impacto en Programas Sociales con Stata
Oscar Rodríguez
Wednesday, November 11
Stata Press books presentation
Patricia Cuneo, SOFTWARE shop
Thursday, November 12
Econometría y Riesgo Corporativo con Stata
Andrés Quevedo C.R.M.
Registration
The meeting is free to those registered for the First International Workshop on Applied Statistics.
Organizer
The meeting is organized by SOFTWARE shop, the distributor of Stata in Bolivia, Chile, Colombia, Ecuador, Peru, and Venezuela.
To view proceedings from previous Stata Users Group meetings, visit
www.stata.com/meeting/proceedings/.