2009 Canadian Stata Users Group meeting in Toronto
Date:
Thursday, October 22, 2009
Venue:
Pantages Hotel
200 Victoria Street
Toronto, ON M5B 1V8
Cost:

Price
Student price
Meeting
US$95
US$40
Optional dinner
(Urban Restaurant)
US$34
Registration closed.
(Deadline: October 21, 2009)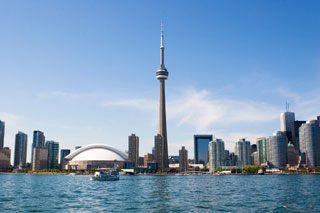 Program announcement
The first Canadian Stata Users Group meeting will be held Thursday, October 22, 2009, at the Pantages Hotel in downtown Toronto.
Stata Users Group meetings are enjoyable and rewarding for Stata users at all levels and from all disciplines. As in other Stata Users Group meetings, the program will consist primarily of user presentations together with the ever-popular "Wishes and grumbles" session in which users have an opportunity to share their comments and suggestions directly with developers from StataCorp.
Lee Sieswerda (Thunder Bay District Health Unit) is the invited speaker. StataCorp will be represented by Jeff Pitblado, Associate Director of Statistical Software and primary architect of Stata's survey data capabilities. In addition to a presentation on survey statistics, Jeff will be giving a report to users.
Toronto is one of Canada's most vibrant and cosmopolitan centers. Its diverse cultural communities, stunning views, and outstanding shopping and dining opportunities add to its charm. Toronto has an active sports life, including the Toronto Raptors (NBA), Toronto Maple Leafs (NHL), Toronto Blue Jays (MLB), and Toronto Argonauts (CFL, football). Toronto also has one of the larger zoos in North America and is home to one of Canada's largest amusement parks, Canada's Wonderland. Toronto is also within easy driving distance to the magnificent Niagara Falls and Ontario Wine Country.
Program
8:30–9:00
Registration and coffee/tea
9:00–9:15

Introduction and welcome

Invited speaker
9:15–10:15

Lee Sieswerda

Thunder Bay District Health Unit

10:15–10:45
Coffee/tea
Applications/Modifications of Stata
10:45–11:10

Matt Hurst

Statistics Canada

11:10–11:30

Alexandra Whate

University of Guelph

11:30–12:00

Muhammad Waseem

Lincoln Medical & Mental Health Center

12:00–1:00
Lunch
Teaching with Stata
1:00–1:20

Karen Robson

York University

1:20–1:40

Glenn Jones

McMaster University

1:40–2:40

Jeff Pitblado

StataCorp

2:40–3:00
Coffee/tea
Using features of Stata
3:00–3:30

Sergiy Radyakin

The World Bank

3:30–3:55

Leslie-Anne Keown

Statistics Canada

3:55–4:25

Report to users

4:25–5:00

Wishes and grumbles

5:00
Close
Registration
The registration deadline is October 21, 2009.
Accommodations
A block of rooms has been reserved for those attending the meeting at the Pantages Hotel for October 21–22, 2009. The discounted group rate is CDN$199 per night; taxes and fees are an additional 15%.
The last day to reserve a room at the discounted rate is September 28, 2009.
To reserve a room, call the Pantages Hotel at 866.852.1777. Please refer to the StataCorp 2009 Canadian Stata Users Group meeting when making your reservation.
Hotel details:
Pantages Hotel
200 Victoria Street
Toronto, ON M5B 1V8
(map)
Phone: 866.852.1777
Web: www.pantageshotel.com
Email: info@pantageshotel.com
Check in is at 3 PM and check out is at noon. Parking is CDN$33 or CDN$20 for event parking; however, the hotel is quite close to the subway.
Special needs:
If you have any special needs (vegetarian, handicapped, etc.), please contact Chris Farrar, cfarrar@stata.com, or Gretchen Farrar, gfarrar@stata.com.
Scientific committee
Logistics organizers
To view proceedings from previous Stata Users Group meetings, visit
www.stata.com/meeting/proceedings.html.