2009 Canadian Stata Users Group meeting in Toronto
Date:
Thursday, October 22, 2009
Venue:
Pantages Hotel
200 Victoria Street
Toronto, ON M5B 1V8
Cost:

Price
Student price
Meeting
US$95
US$40
Optional dinner
(location TBA)
US$34
Registration closed.
(Deadline: October 16, 2009)
Announcement and call for presentations
The first Canadian Stata Users Group meeting will be held Thursday, October 22, 2009, at the Pantages Hotel in downtown Toronto.
Stata Users Group meetings are enjoyable and rewarding for Stata users at all levels and from all disciplines. As in other Stata Users Group meetings, the program will consist primarily of user presentations together with the ever-popular "Wishes and grumbles" session in which users have an opportunity to share their comments and suggestions directly with developers from StataCorp.
Lee Sieswerda (Thunder Bay District Health Unit) is the invited speaker. Stata developers will also attend the meeting, both to present and to take notes during the "Wishes and grumbles" session. We hope you will consider joining us in October as a presenter or an attendee.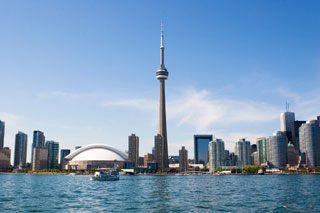 Toronto is one of Canada's most vibrant and cosmopolitan centers. Its diverse cultural communities, stunning views, and outstanding shopping and dining opportunities add to its charm. Toronto has an active sports life, including the Toronto Raptors (NBA), Toronto Maple Leafs (NHL), Toronto Blue Jays (MLB), and Toronto Argonauts (CFL, football). In addition, Toronto has one of the larger zoos in North America and is home to one of Canada's largest amusement parks, Canada's Wonderland. Toronto is also within easy driving distance to magnificent Niagara Falls and Ontario Wine Country.
Submission information
We encourage submissions on any topic highlighting the use of Stata in research, teaching, or any other field, such as the following topics:
Using Stata for modeling and analysis
User-written Stata programs
Case studies of research or teaching using Stata
Using Stata to import and manage data
Teaching Stata
Teaching statistics with Stata
Surveys or critiques of Stata facilities in specific fields
Software comparisons
You may choose to give
a 15-minute talk (followed by a 5-minute discussion),
a 20-minute talk (followed by a 5-minute discussion), or
a 40-minute talk (followed by a 10-minute discussion).
Please submit an abstract and contact information (your name, affiliation, postal address, email address, and fax and phone numbers) online at repec.org/ca09/ca09.php by September 8, 2009. The abstract should be no longer than 200 words. Please include a short, informative title and indicate the time needed for your presentation. If your presentation has multiple authors, please identify one author as the primary author. The conference registration fee will be waived for the primary author of accepted presentations.
If you would like to discuss an idea for a presentation or have questions about the program format, please contact a member of the scientific committee: Leslie-Anne Keown (Statistics Canada) and Louis Gagnon (Queens University).
Presenters will be asked to provide materials related to their talk (slides and programs/datasets, where applicable) in electronic form, preferably before the meeting, to one of the logistics organizers so that the materials can be posted on our website and in the Stata Users Group RePEc archive.
Registration
The registration deadline is October 16, 2009.
Accommodations
A block of rooms has been reserved for StataCorp at the Pantages Hotel for October 21–22, 2009. The discounted group rate is CDN$199 per night; taxes and fees are an additional 15%.
The last day to reserve a room at the discounted rate is September 21, 2009.
To reserve a room, call the Pantages Hotel at 866.852.1777. Please refer to the StataCorp 2009 Canadian Stata Users Group meeting when making your reservation.
Hotel details:
Pantages Hotel
200 Victoria Street
Toronto, ON M5B 1V8
(map)
Phone: 866.852.1777
Web: www.pantageshotel.com
Email: info@pantageshotel.com
Check in is at 3 PM and check out is at noon. Parking is CDN$33 or CDN$20 for event parking; however, the hotel is quite close to the subway.
Special needs:
If you have any special needs (vegetarian, handicapped, etc.), please contact Chris Farrar, cfarrar@stata.com, or Gretchen Farrar, gfarrar@stata.com.
Scientific committee
Logistics organizers
To view proceedings from previous Stata Users Group meetings, visit
www.stata.com/meeting/proceedings.html.