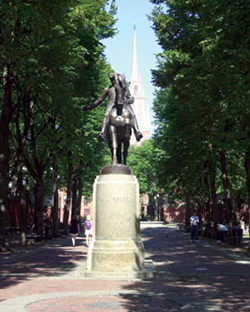 ©FAYFOTO, Inc.
Stata Conference Boston 2010:
Announcement and call for presentations
Dates:
July 15–16, 2010
Venue:
Omni Parker House, Boston
60 School Street
Boston, MA 02108
Cost:
Single day $125, students $50
Both days $195, students $75

The Stata Conference Boston 2010 will be held on July 15 and 16 at the Omni Parker House hotel, located in downtown Boston near the Boston Common and the Park Street T.
Call for presentations
All users are encouraged to submit abstracts for possible presentations. Presentations on any Stata-related topic will be considered, including (but not limited to) the following topics:
new user-written commands, including commands for modeling and estimation, graphical analysis, data management, or reporting
use or evaluation of existing Stata commands
methods for using Stata or for teaching statistics with Stata
case studies of Stata use in novel areas or applications
surveys or critiques of Stata facilities in specific fields
comparisons of Stata to other software or use of Stata together with other software
Presentations should be either 15 or 25 minutes long, followed by 5 minutes for questions.
Submission guidelines
The call for presentations is now closed.
Please submit an abstract of no more than 200 words (ASCII text, no math symbols) using the web submission form. All abstracts must be received by March 31, 2010, to be considered. Please include a short, informative title and indicate whether you wish to be considered for a short (15-minute) or long (25-minute) presentation. If your presentation has multiple authors, please identify one author as the primary author. The conference registration fee will be waived for the primary author of accepted presentations.
If you would like to discuss an idea for a presentation or have questions about the program format, please contact a member of the scientific committee: Liz Allred (Harvard School of Public Health), Kit Baum (Boston College), Amresh Hanchate (Boston University), or Marcello Pagano (Harvard School of Public Health).
Presenters will be asked to provide materials related to their talk (slides and programs/datasets, where applicable) in electronic form, preferably before the meeting, to the organizers, so that the materials can be posted on the StataCorp website and in the Stata Users Group RePEc archive.
Registration and accommodations
Registration is now closed.
Rooms at the Omni Parker House hotel are available at the discounted rate of $179 per night. Call 617-227-8600, and be sure to mention you are with the Stata Conference to receive the discounted rate.
Special needs
If you have any special needs (vegetarian, handicapped, etc.), please contact Sarah Marrs, smarrs@stata.com.
Scientific organizers
Logistics organizer