2015 Oceania Stata Users Group meeting
Date:
September 24–25, 2015
Venue:
Australian National University, Canberra
Cost:
Regular $A300; Early bird $A250
Student $A150; Early bird $A125

Submission deadline:
July 5, 2015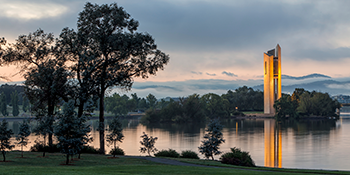 National Carillon in Canberra, Australia
Announcement and call for presentations
The 2015 Oceania Stata Users Group meeting will be held at the Australian National University in Canberra, Australia, September 24–25, 2015. Stata users from all disciplines are invited to attend. Beginners, experts, and everyone in between are welcome.
This Stata User Group meeting provides an opportunity for sharing ideas across fields of study. All Stata users are encouraged to submit abstracts for possible presentations. The scientific committee is particularly interested in topics that work well in one field of study that can be applied to other fields of study, though the presentations can address any Stata-related topic, including:
new user-written commands, such as commands for modeling and estimation, graphical analysis, data management, or reporting;
use or evaluation of existing Stata commands;
methods for teaching statistics with Stata or teaching the use of Stata;
case studies of Stata use in novel areas or applications;
surveys or critiques of Stata facilities in specific fields;
comparisons of Stata with other software or use of Stata together with other software; and
using Stata in applied settings.
Submission and presentation guidelines
Each user presentation should be up to 25 minutes long and should be followed by 5 minutes for questions. The scientific committee will also accept 2 to 3 keynote presentations of approximately 40 minutes. Presentations longer than 40 minutes will be considered at the discretion of the scientific committee.
Submitted papers should include an abstract of no more than 200 words (ASCII text, no math symbols) along with your name, position, organization, and field. All abstracts must be received by July 5, 2015. Please include a short, informative title, and indicate whether you wish to be considered for a short (25-minute) or keynote (40-minute) presentation. In addition, if your presentation has multiple authors, please identify the presenter.
Registration
Registration is closed.
Organizers
Scientific organizers
Demetris Christodoulou (Chair)
University of Sydney, Accounting

Yohannes Kinfu
University of Canberra, CeRAPH

Ghada Gleeson
The Australian National University, ACERH

JinJing Li
University of Canberra, Health Research Institute

Con Menictas
University of Newcastle, Business and Law

Logistics organizers
Survey Design and Analysis Services Pty Ltd, the distributor of Stata in Australia and New Zealand.
For further information, contact sugm2015@sugm.net.au.
View the proceedings of previous Stata Users Group meetings.