Wrong flavor selected during installation
If you are receiving the message "Your license is not applicable to this Stata," it is likely because you have installed a flavor of Stata that does not match the activation key you entered.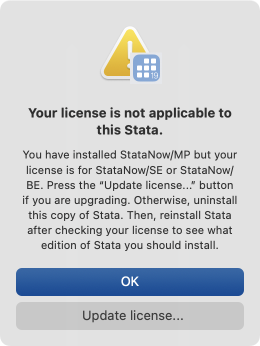 Open Finder from the Dock.

Click on Applications in the left-hand pane. This will list everything in your Applications directory in the right-hand pane in alphabetical order. Right-click on the Stata folder, and choose Move to Trash from the pop-up menu.

On the Dock, right-click on the Trash icon, and select Empty Trash.

Rerun the installer from the Downloads folder. To get to the Downloads folder, click on Finder in the Dock, and then click on Downloads. Double-click on Stata16.dmg to reinstall.
If you cannot find the Stata16.dmg file, visit download.stata.com to download a new copy. (If the credentials you were supplied when you originally downloaded Stata are no longer valid, contact StataCorp for availability.)
Refer to your License and Activation Key that you originally received from Stata if you are unsure which version of Stata to install.

See the Stata installation guide for Mac for complete installation instructions.