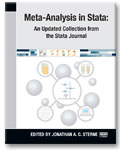 Meta-Analysis in Stata: An Updated Collection from the Stata Journal, edited by Jonathan A. C. Sterne, gathers all the Stata Journal articles about meta-analysis into one place. Interestingly, meta-analysis in Stata is one of Stata's strengths, yet all the commands to implement it are user-written. Having nowhere to look in the Stata documentation made it tedious for those interested in meta-analysis to gather the requisite packages and documentation. Well, no more! With this meta-analysis collection, researchers can find what they need quickly and efficiently. Moreover, many of the articles and associated software have been updated for the collection. In particular, support for modern Stata graphics has been added to several commands.
The structure of the collection is simple: it splits the topics by complexity, starting with meta-analysis and meta-regression, then looking at both graphical and analytic tools for detecting bias, and finally moving on to recent advanced topics such as meta-analysis for dose–response curves, diagnostic accuracy, multivariate analyses, and studies containing missing values. The collection touches on both common and complex methods for conducting a meta-analysis, including implementations of contemporary advances that will help keep the reader up to date.
For further details or to order online, please visit the Stata Bookstore.